Overview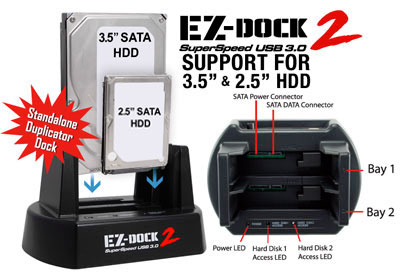 The EZ-Dock2 (Model EZD-2536U3) is a SuperSpeed USB 3.0 Dual-Bay 2.5"/3.5" SATA Hard Drive Docking Station with RAID options and also can work as a stand-alone drive duplicator. SuperSpeed USB 3.0 interface has data transfer bandwidth of up to 5Gbps offering 10X faster performance over Hi-Speed USB 2.0 (480Mbps) while still retaining backward compatibility and interoperability with all PC USB ports and devices. SuperSpeed USB 3.0 also works well with latest Windows 8 and Mac OS X.
The EZ-Dock2 top-loading bay lets you easily insert one or two 2.5" or 3.5" SATA Hard Drives or Solid-State Drives (SSD). Each bay can support drives with up to 4TB capacity. You can also mix and match any HDD or SDD and any disk size at the same time. The EZ-Dock2 also has a Power and two Drive LED status indicators.
The EZ-Dock2 switch mode settings support RAID 0 (Striped) mode for maximum capacity and accelerated performance, RAID 1 (Mirrored) mode for real-time extra drive backup protection, JBOD (Just a Bunch Of Disks) mode for two separate independent drives, and also BIG mode for one concatenated big capacity drive. The DIP switches are located at the rear of the EZ-Dock2.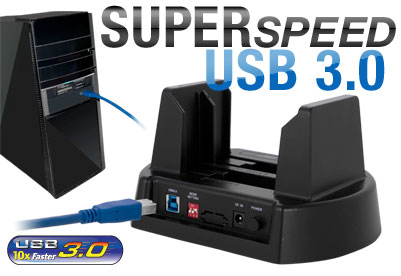 Another unique feature of the EZ-Dock2 is the stand-alone disk cloning feature that allows you to duplicate or clone the entire drive to another faster or larger drive without having to connect to a PC. Simply plug the source drive to Bay-1 and the new drive to Bay-2, turn on the EZ-Dock2 power and set the duplicator jumper switch to begin the cloning process. The result is two identical drives containing the same files, boot sector, partition table and file system format. If the destination drive is larger than the source drive, the remaining partition of the drive that was not used during the cloning process will be converted as an unallocated partition. You can still repartition and format that partition as another extra logical drive.
The EZ-Dock2 is your award-winning choice for USB 3.0 dual-bay SATA drive docking solution that is sleek in design, portable, and packs a lot of features, performance, expandability, and great value for your money.