Overview
Kingwin introduces the new EZ-Dock (Model EZD-2535U3) SuperSpeed USB 3.0 to SATA Hard Drive Docking Station which boasts a 10X faster USB speed. The EZ-Dock allows easy insertion and hot-swap of any 2.5" or 3.5" SATA HDD or SSD. It is the perfect choice for your data storage and backup needs.

SuperSpeed USB 3.0
SuperSpeed USB 3.0 interface has data transfer bandwidth of up to 5Gbps offering 10X faster performance over Hi-Speed USB 2.0 (480Mbps) while still retaining backward compatibility and interoperability with all PC USB ports and devices. SuperSpeed USB 3.0 also works well with the latest Windows 8 and Mac OS X with no driver installation needed.
Easy SATA Drive Docking
The new EZ-Dock top-loading bay supports one 2.5" or 3.5" SATA Hard Drive or Solid-State Drive (SSD) with up to 6TB capacity. Simply insert the hard drive or SSD vertically into the EZ-Dock drive bay, power on the EZ-Dock, and plug to the USB port of your computer to access the drive. No extra driver installation required. The EZ-Dock also supports HDD/SDD hot-swap capabilities without needing to turn off the EZ-Dock or the computer. The EZ-Dock also provides LED indicators for Power status and HDD Data access.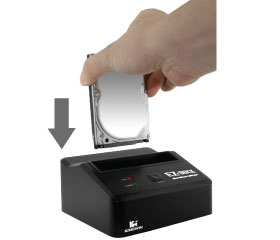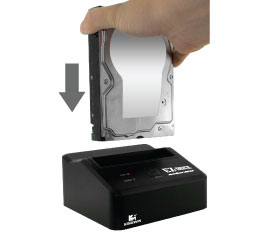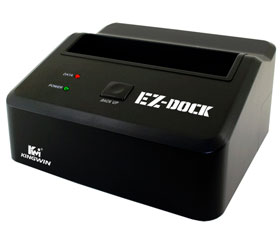 One Touch Backup
The EZ-Dock also comes with a One Touch Backup button that will automatically run the EZ-Dock backup software from your computer. You can backup or restore your files easily with a touch of the button. (NOTE: You would need to install the PCClone EX Lite backup software first in your computer).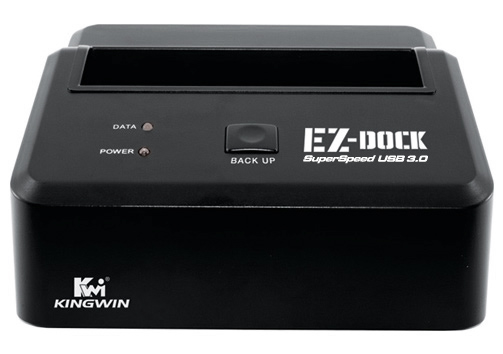 The new Kingwin EZ-Dock is your smart choice for USB 3.0 to SATA drive docking solution that is sleek in design, portable, and offers excellent performance and great value for your money.